Currently due to the rapid spread of the Corona Virus, our hospital will not be operating as normal. We have stopped our walk-in hours to prevent the overcrowding of our facilities. Please call and make an appointment for your pet to be seen. We appreciate your cooperation in these difficult times.
Thank you,
Drummond's Staff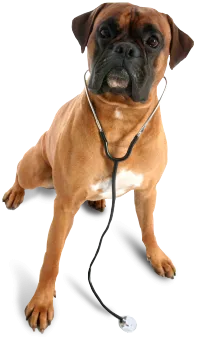 If you live in New Bethlehem or the surrounding area and need a trusted veterinarian to care for your pets – look no further. Our Doctors are licensed PA veterinarians, treating all types of pets. Your pets' health and wellbeing are very important to us, and we take every possible measure to give your animals the care they deserve.
Drummond Animal Hospital is a full-service animal hospital and welcomes both emergency treatment cases as well as pet patients in need of routine medical, surgical, and dental care. Our Doctors have years of experience treating serious conditions and offering regular pet wellness care. Beyond first-rate pet care, we make our clinic comfortable, kid-friendly, and calm, so your pet can relax in the waiting room and look forward to meeting our New Bethlehem veterinarians.
We are happy to offer a number of resources that enable you to learn about how to take better care of your pets. Please feel free to browse our site, particularly the informational articles. The best veterinary care for animals is ongoing nutrition and problem prevention, so becoming knowledgeable about preventative pet care is essential to the ongoing success of your animal's health. If you have any questions, call (814) 275-3222 or email us and we'll promptly get back to you. Our office is very easy to get to -- just check out the map below! We also welcome you to subscribe to our newsletter, which is created especially for pet owners.
At Drummond Animal Hospital, we treat your pets like the valued family members they are.
Serving New Bethlehem, PA and Our Neighbors
Offering you the best care for your fur friends is our number one priority. We offer everything from wellness check ups, vaccinations, ultrasounds, x-rays, laser therapy, orthopedic surgery, sterilization, emergency care and lameness exams to cattle herd checks, farm calls, coggins, and fair animal cvi's.
Comprehensive Healthcare with Compassion
Our veterinarians and animal hospital staff at Drummond Animal Hospital combine quality veterinary care with compassion and a true love of animals.
At Drummond Animal Hospital, we believe in establishing a long term relationship with you and your four legged family member. This relationship enables the doctor to diagnose problems and disease through routine physical exams and blood work, finding problems before they become critical to your pet. We also recommend yearly heartworm and fecal exams to keep your pet parasite free.
Keeping your pet on monthly heartworm and flea preventative all year long is an important part of keeping your pet healthy. We offer a variety of products and options for flea and heartworm control. Spaying and neutering helps extend the life of your furry friend as well. Not only does it stop unwanted pregnancies, it also greatly reduces the risk of mammary and prostate cancer. Please ask us about our current specials on spays and neuters.
Dr. Jack Drummond | Dr. Brian Byers | Dr. Nicole Drummond
New Bethlehem Veterinarian | Drummond Animal Hospital | (814) 275-3222
1417 State Route 66
New Bethlehem, PA 16242